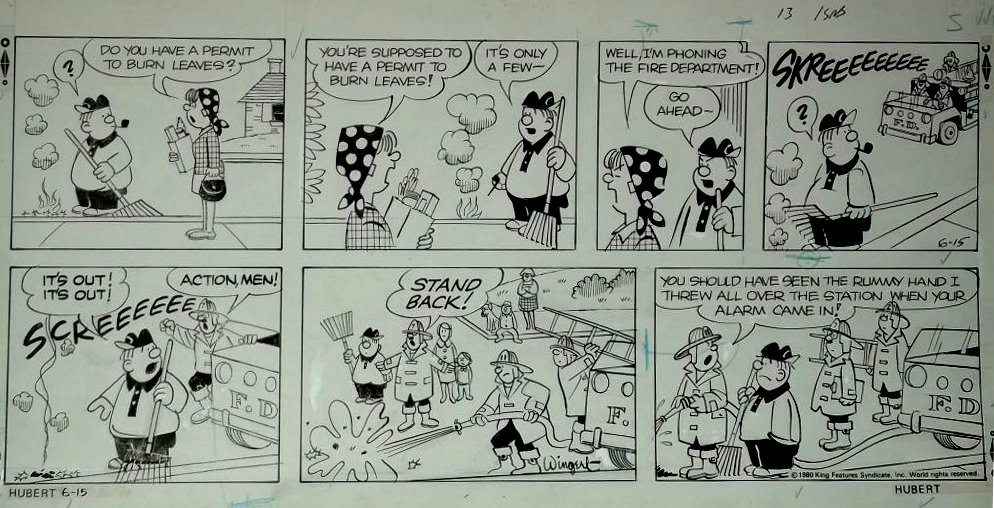 Zeichner: Dick Wingert (1919-1993)
Serie: Hubert 15. Juni 1980, signiert
Format: 23,5x53,5cm
Tusche auf Zeichenkarton
€ 99,-

Wingerts Familienserie Hubert erzählt die teilweise haarsträubenden Erlebnisse des Familienoberhaupts Huberts, der zuHause so fast gar nichts zu sagen hat.



In 1942, Dick Wingert was hired by the London-based team of the American army magazine, Stars and Stripes. Here, he created the character of Hubert, the stereotype of a simple soldier. At first, 'Hubert' appeared as an illustration, combined with dialogue or a phrase. In 1945, 'Hubert' was turned into a daily comic, distributed by King Features Syndicate.Wingert gave up the military theme and Hubert became a civilian. Dick Wingert drew the series until 1994 and, throughout the years, he created several other characters for the comic, like Hubert's wife Trudy, his daughter Elli and the dog Freddy.
Interesse? Dann nehmen Sie Kontakt mit uns auf:

Mail: mhilland@googlemail.com
zurück